It's been a long time but version 0.17.x of Leonardo is finally here! We are happy to announce that Leonardo now supports French, German, Chinese and Japanese! It also runs on the Surface Pro X (and all other ARM64 Windows computers).
It's been over a year since the last major update. This is because we are rewriting the entire tool, brush and shortcut code from scratch which takes a lot of time. Unfortunately it's still not done but we feel we need to push something out to show that we are still alive :)
Besides supporting more languages and Surface Pro X this version also has a few other new features like a "merge all layers" command and a "clear history" command. We have also improved all text fields so they work better with touch.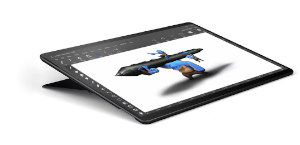 With this version we hope to reach a broader audience with Leonardo. If you are new to Leonardo let me tell you what it is:
Our mission is to create the best drawing and painting app for Windows. We think we already have the best drawing app for the Microsoft Surface (Surface Pro X, Surface Go, Surface Book, Surface Studio).
Leonardo is a very versatile app and can be used for sketching, drawing, painting, whiteboarding and a lot more. Leonardo has an easy-to-use user interface, is super fast, has an infinite canvas that can be used as a sketchbook, great line tools and a lot more.
Leonardo is still in beta and there are a lot of improvements still to come. But don't wait, if you buy it today you will receive all future updates for free and during beta we have a 50% discount!
If you are curious to try it out we have a 15 day free trial. You can get it from the Microsoft Store or download it from this website by clicking on the button below (it doesn't matter which one you choose, it's the same app):